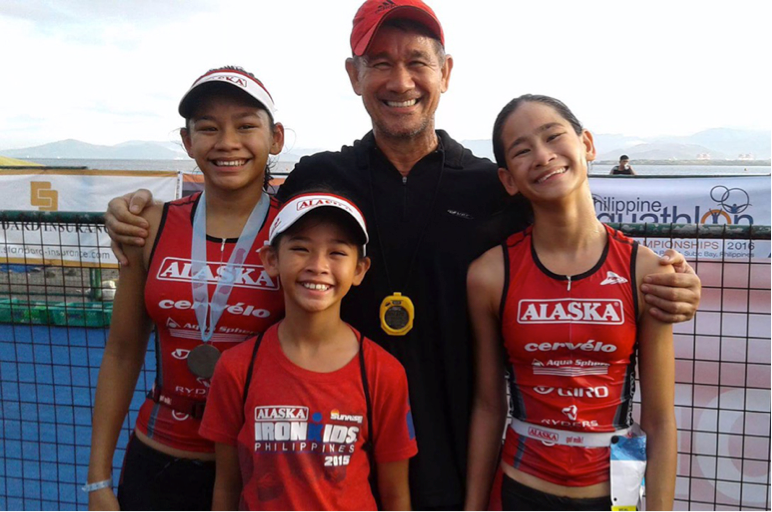 When you're a born competitor, there will always be another race, another challenge to conquer. From the time their father Ringo first inspired them to begin training and the many, many races they've won thus far, Borlain Sisters, Sam, Tara, and Chezka have known this to be true. With the IronKids triathlon being their signature event, the sisters have impressed fans and pros alike with their dedication and performance, time and time again.
This past weekend saw the first Philippine Aquathlon Championship held at the Camayan Beach Resort in the Subic Bay Freeport Zone, where the two elder Borlains continued their winning streak over the weekend, with Sam claiming the top spot with a time of 18m42s and younger Tara coming in 2nd with 19m19s. Their event was the sprint, comprised of a 1km run, followed by a 600m swim, and another 1km run.
In the Standard Distance (adult) category, which consisted of a 2.5-kilometer run, 2.5k swim, and another 2.5k run, Philippine national triathlon team member Kim Andrew Remolino scored the win, with a time of 25m02s, while the female champ was newcomer Leyann Ramos, a UST graduate who only took up the sport last year.
For participants old and new, the inaugural Philippine Aquathlon championship was an exciting day, with cash prizes and medals awaiting the podium placers. Additionally, for those who took part in the Youth and Junior competition born from 2001 and 2002, consideration in the upcoming 2018 Youth Olympic Games was up for grabs.