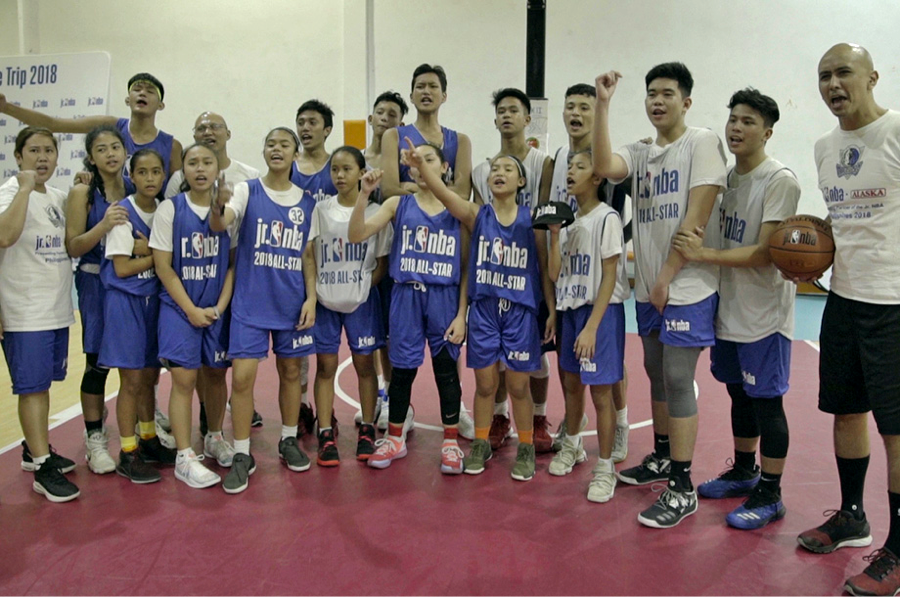 The Jr. NBA is home to some of the most inspiring, moving stories across the globe. Held in many other countries, the camp has given kids more than the gift of playing a great sport – but an opportunity to develop their skills, grounded in the core values and proper nutrition that form the cornerstones of Alaska's Nutrition. Action. Champion. program.
So when the Jr. NBA powered by Alaska came to the Philippines, aspiring ballers and growing mentors saw the opportunity to get a first-hand glance at one of the country's premiere basketball camps and see what the game could give them.
This 2018, and like in the many years that came before, campers exit the Jr. NBA with a renowned love for the game, an improved character, and a drive to achieve their dreams. Here are some of the stories coming from this year's All-Star cast:
AMBER ESQUIVEL
"I wasn't so serious about basketball before entering the Jr. NBA," says Amber Esquivel, a 14-year old player hailing from De La Salle Zobel. For her, the Jr. NBA has taught her how to tackle challenges from a new angle.
"The Jr. NBA showed me how to be more serious with my studies and to really improve my game as well. On and off the court, I learned how to be humble and not to be mayabang towards other players. I learned that you have to respect your opponents. You have to respect them even if you're leading," says Esquivel.
It's exciting to see what the youngster has in-store for us in the following years. Now that she's equipped with the skills and development from the Jr. NBA, she's definitely going to be a force to be reckoned with in the minor leagues.
MANUEL ANTONIO LUIS PABLO
"Simple lang and not that good," is how Manuel Antonio Luis Pablo described his game before entering the Jr. NBA. But according to the young bigman from La Salle Greenhills, the biggest takeaway from the Jr. NBA was his improved character, "When the Jr. NBA started, my confidence grew more and more. I learned how to be a disciplined and respectful player."
"Sa Jr. NBA, I learned that I need discipline everywhere – in school, in the house, and on the court," Pablo told PlayPH. He's one of the tallest players in the cast and has shown great promise at a young age. From here on out, let it be known that Manuel Pablo is a player filled with potential and is ready to back it up.
COACH HAZEL YAMBOT
One half of this year's Coach of the Year tandem is Baguio's very own Hazel Yambot. When all is done with regards to this year's camp, her goal now is to bring the basketball knowledge she's gotten from the Jr. NBA all the way to the young girls of Baguio. According to her, aspiring players in the province don't always have the privilege to experience camps such as the Jr. NBA. And so, it would be the least she could do to the town that raised her.
On the conversation about improvements, Yambot told PlayPh that she's learned how to be a better mentor, coach, and role model to kids. "…'yung pinakaimportante na naimprove ko is 'yung sarili ko. Na kaya ko 'rin mag-coach, maging mentor sa mga bata, at role model. Sa TV ko lang dati napapanuod 'yung ganitong klaseng coaching, at ngayon ako na 'yung may opportunity na gumawa. Napatanuyan ko sa sarili ko na kaya ko 'rin," Yambot concludes.
The Jr. NBA capped off its nearly yearlong camp with a trip to Shanghai, China, where they got the chance to train with other All-Stars and witness a live NBA match. Overall, the kids and coaches may have gained new skills to add to their game. But more importantly, they've found a deeper meaning to their playing – proving that the Jr. NBA is the leader in developing distinct athletes and incredible team players..
Read more about the Jr. NBA powered by Alaska here: https://www.jrnba.asia/ph_EN/index.php