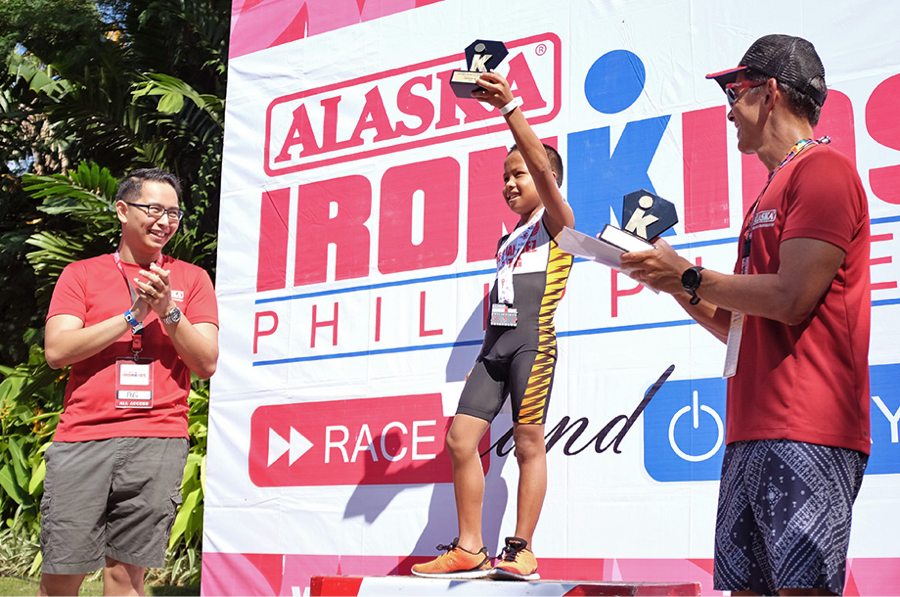 Borrowed shoes and an oversized bike is what 2017 Cebu Ironkids champion Beboy Dolen used to outrace his competitors. For the 10-year old wonder taking part in his first-ever swim-bike-run competitioin, a fancy bicycle or the latest pair of shoes weren't the tools to succeed – it was hard work.
In an interview with PlayPH, Coach Andoy Remolino's first words about Beboy were, "Ibang klase talaga 'yung puso ng batang yan."
But what's amazing about Beboy's story is how it's become a reflection of his hard working (yet humble) demeanor. When Remolino first discovered him in early 2016, swimming along the coastlines of Danao City, he immediately saw the potential Dolen had.
"Trabaho lang ng trabaho, takbo ng takbo, sige lang ng sige. 'Yan ang ugali ni Beboy, walang angal sa training," Coach Andoy describes Beboy's work ethic. "'Yung kanyang attitude kasi, gusto niya lang mag excel," says ," says Coach Remolino. "Dahil sa kahirapan ng buhay, pursigido talaga yan si Beboy."
Most of Beboy's hurdles came from his family's humble background. As farmers, they didn't always have the resources for training, equipment, or even registration fees for race events. But Beboy didn't let any of these obstacles stand in his way. .
When it was time to show everyone what he's made of, Beboy delivered. In Cebu, he sported borrowed shoes and a bike too big for him. It was so big that every time he'd stop, it meant him falling to the ground. So, he refused to stop, pedaling every mile of the way. At the end of the day, it was Beboy's desire to win that got him through.
"Malakas talaga desire niya manalo, 'yan lang ang puhunan niya," says Remolino.
Today, Beboy sits as a champion. During last year's competition in Cebu, it was Beboy leading the Boys' 9-10 league all the way. He finished with a speedy time of 24:28, three minutes ahead of the trailing athlete. Not bad for a first time racer.
While Beboy won't be taking part in tomorrow's Ironkids race in Davao, his story serves as a reminder for all aspiring athletes to follow their dreams and work hard, straight to the finish line – no matter what. For Coach Remolino and the many others who have followed Beboy, there's not a prouder feeling in the world than seeing a kid work his way to the top.
The first IronKids event of 2018 will be taking place in Davao on March 24 and will include the first-ever Alaska Dagan Ta Tana fun run for the whole family. Watch out for PlayPH's exclusive livestream of the event @PlayPH on Facebook.