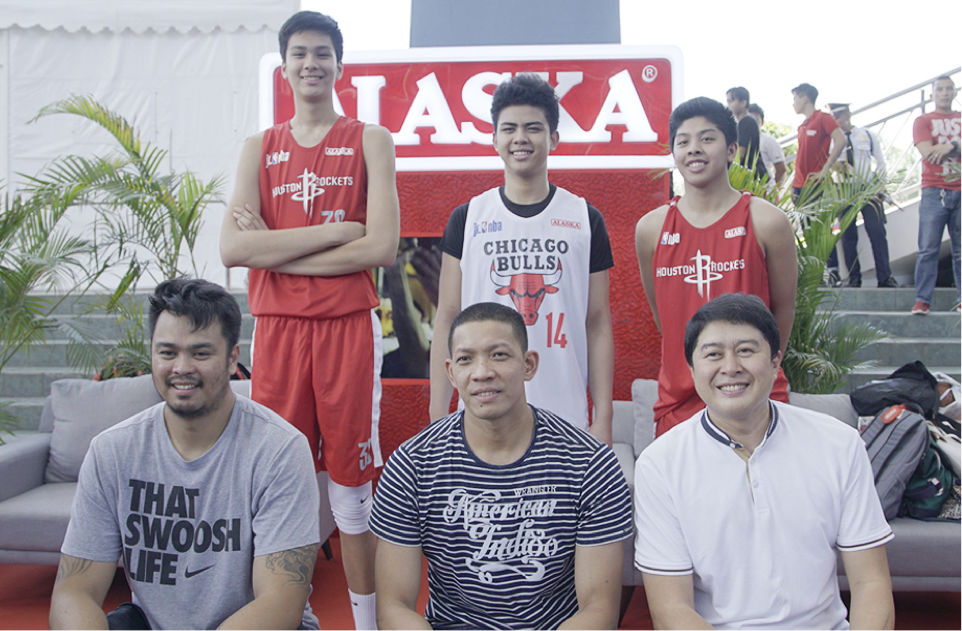 Past Jr. NBA All-Stars Kenji Duremdes, Echo Laure, and Kai Sotto are some of the biggest names in high school basketball. Duremdes, with a game revolving around finesse and IQ, has provided NU with enough firepower down low. Laure – a skillful, quick, and strong presence on both ends of the floor. And the skyscraping Sotto, who stands as Ateneo's frontcourt giant – are all bright young stars in the making.
But before their basketball prowess made headlines, it was their fathers Kenneth Duremdes, Eddie Laure, and Ervin Sotto who ruled the hardwood. What we're seeing now are reflections of historic greatness in the form of their hoop-gifted sons.
KENNETH & KENJI DUREMDES
As one of the PBA's greatest champions, Captain Marbel's presence on the court may be missed, but his son Kenji is here to pick up the pace. At just 15 years old, the 2017 Jr. NBA standout has competed against high-level competition and excelled – battling it out with some of the best high school teams in the Metro. As mentioned above, the younger Duremdes doesn't rely on power to be felt – It's his smarts on the court that separate him from other players.
"I'm proud and happy for him," Kenneth told PlayPH. "It's every dad's dream na 'yung anak nila is following the footsteps of their father. But kailangan niya (Kenji) parin mag-double ng effort, considering there are a lot of talented players in the country."
"It's the competition and developing your habits every day," Captain Marbel says on his winning formula for his son. he says he makes it a point to share his experiences with Kenji whenever he can – letting hum know just what it takes to make it to the pros.
EDDIE & ECHO LAURE
PlayPH first saw Echo during the 2017 Jr. NBA Presented By Alaska National Training Camp. Lanky, built, and offensively gifted, Laure caught everyone's eye with a massive one-handed jam during that year's All-Star selection day. As a teenage player, getting up that high is as impressive as it can get.
According to his father, Eddie, it's Echo's work ethic and practice that account for his abilities. "Para sa 'kin, nasa practice 'yan eh. Kumbaga, kung ano 'yung ipina-practice mo, 'yun din ang nilalaro mo," he says. "Ang ina-advice ko kay Echo is to go hard sa practice at mag-work hard."
Another thing he feels that hold responsible for his son's success was his time at the Jr. NBA, saying that it was there where he fully learned the value of discipline, teamwork, and exposure.
ERVIN & KAI SOTTO
Probably THE biggest name in high school athletics today is Kai Sotto. At 7-foot-1, the 15-year old center for the Blue Eagles is well on his way to creating a hoop legacy of his own.
Kai's father Ervin says, "Mas-magaling siya sa akin at that age. 'Yung IQ niya at kung paano siya maglaro sa court, 'yan yung okay sa kanya."
"Nakaka-proud, siyempre. Pero tingin ko hindi pa niya naaabot yung full potential. Kaya looking forward ako doon sa dadarating niyang games," the former Alaska Aces' member says.
THE JR. NBA'S ROLE
As the three fathers would have it, the Jr. NBA played a role in the shaping of their son's young careers. For Kenneth, "The Jr. NBA is a big, help especially to those kids who are just starting to love basketball. Malaking bagay ang ginagawa ng Alaska na sinusuporta ang development ng kabataan. Hopefully, it will continue to grow and discover more kids – preparing them for the big leagues."
And for the Eddie "The Dominator" Laure, "my advice to the kids is to just stay hungry, humble, and grounded."
For more on the Jr. NBA Powered by Alaska, visit: https://www.jrnba.asia