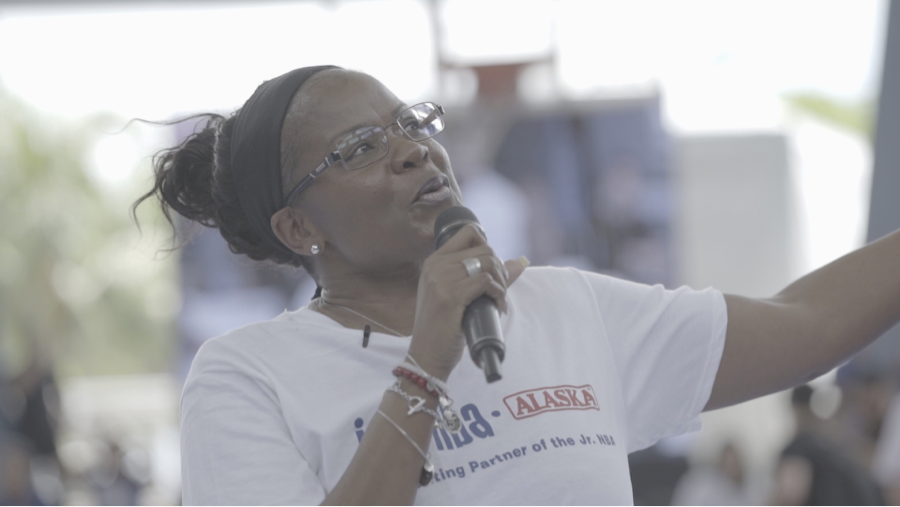 If you Google " The Best WNBA Players of All Time", chances are you're going to run into the name Sheryl Swoopes on every list. And there's good reason for that. As a player who's won Olympic Gold three times, multiple WNBA titles, MVP trophies, and more – there's no surprise Swoopes sits as one of the greatest. Ever.
The weight of Swoopes' impact will ripple far into the future, from her time as a key player on the United States national team (leading the Houston Comets to their historic 4-peat) to inspiring WNBA hopefuls, anyone would be lucky and blessed to be mentored by her.
Last week, the kids and coaches of the 2018 Jr. NBA Presented by Alaska National Training Camp got the chance to be inspired by Swoopes. In a venue where all campers are playing tirelessly for a spot on this year's All-Star cast, Swoopes' presence in the Jr. NBA was the perfect treat.
"I take a lot of pride in that, I cherish it so much – being a role model to these kids,"
Swoopes told PlayPH. "If I can inspire these young basketball players to work hard at it and become a better person on and off the court, then I feel like I've done what I was supposed to do. So it's not something I take lightly."
There's no question why the Jr. NBA invited Sheryl to meet these kids. Encouraging and approachable, coming face-to-face with the legend never felt intimidating for the young athletes. Despite all the accolades surrounding her name, Swoopes' humble charm showed that she was genuinely excited to help.
And so she did. Backed by years of experience in victory, defeat, and glorious triumphs, Swoopes passed some of her hoop secrets on to the kids. "It's never going to be easy. You got to put in the time, you got to put in the work. Be passionate and believe in yourself. It doesn't matter who you are, where you're from, how tall you are, race, or religion – the sky is the limit."
Swoopes' stay may not have lasted long, but the priceless memories and lessons she was able to impart on this year's Jr. NBA campers remain: "One of the things I'd like to leave with these kids is 'Don't be afraid to fail,'" said the former WNBA MVP. "Don't be afraid to make mistakes. Not just in basketball, but in life. I think all of us can continue to learn from our mistakes. Just have fun and work hard. At the end of the day, if you're not having fun doing it, then it isn't worth it."