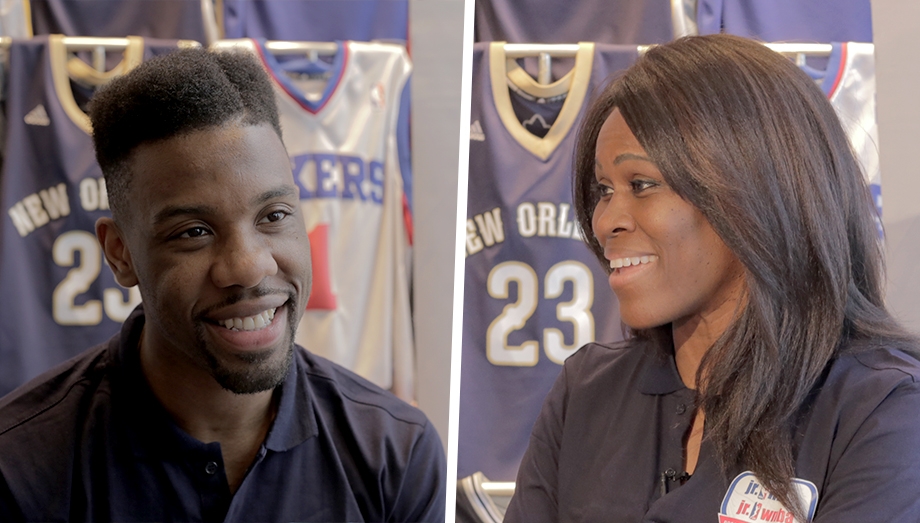 Earlier today, at the NBA Café, 2-time NBA champion of the New Orleans Pelicans Norris Cole and WNBA legend Taj McWilliams met with media as part of their support for this year's Jr. Nba and Jr. WNBA program.
As the country's premiere youth sports development initiative, the Jr. NBA and Jr. WNBA programs have seen over 36,000 aspiring athletes train under the guidance of professional coaches over the past ten years. Of those skilled enough to enter the National Training Camps, an All-Star squad of 10 boys and 5 girls will be selected to take part in a culminating NBA activity abroad.
The presence of cole and McWilliams in the Manila goes beyond providing inspiration, but towards promoting the sport to different cultures. Of course, in the Philippines, the former holds truer than the latter.
"It's very important for young athletes to have a mentor, to have that encouragement, that foundation, and to learn the fundamentals of the game," said Cole on the role mentors play on children's development. "I had that when I was a youngster, and I think it's great for the Jr. NBA and Jr. WNBA to be able to be that foundation for these young players over here. I think it's something that the players can take advantage of so they can become better players and people."
Players will definitely enjoy learning from Cole, who was an excellent role player for the 2011-2013 Miami Heat's back-to-back championship runs. In the summer before this current NBA season began, Cole also displayed his consistent work ethic as he was spotted training with his former Heat teammate and Cavaliers star Lebron James, in their hometown in Ohio. Currently with the Pelicans, Cole has shown that he is still one of the most reliable role players in the league despite his team falling short of making the playoffs.
"The fundamentals are what's most important," shared Cole. "Don't cheat the game. Put your time in. There's no quick fixes in basketball. The only way to be good at it is to put the time in and practice in repetition."
In addition to being a WNBA legend and one of the most polished post players to play in the league, McWilliams used to be an Assistant Coach for the New York Liberty, a team she used to play for, and is the current head coach of the women's basketball team in Post University – something that aspiring coaches in the Jr. NBA and Jr. WNBA can take advantage of. McWilliams is also an Olympic gold medalist, who starred in the 1998 US women's national basketball team.
"Coaching to me is mentoring," said McWilliams-Franklin. "All of those things that basketball entails are life lessons and those are the things that you can pass along even if it's just for a moment."
When asked what advice McWilliams-Franklin can give young players and aspiring coaches, she said, "Just follow your passion. Don't pay attention to what other people will tell you as the right or the wrong way. Follow what you know and what you love."