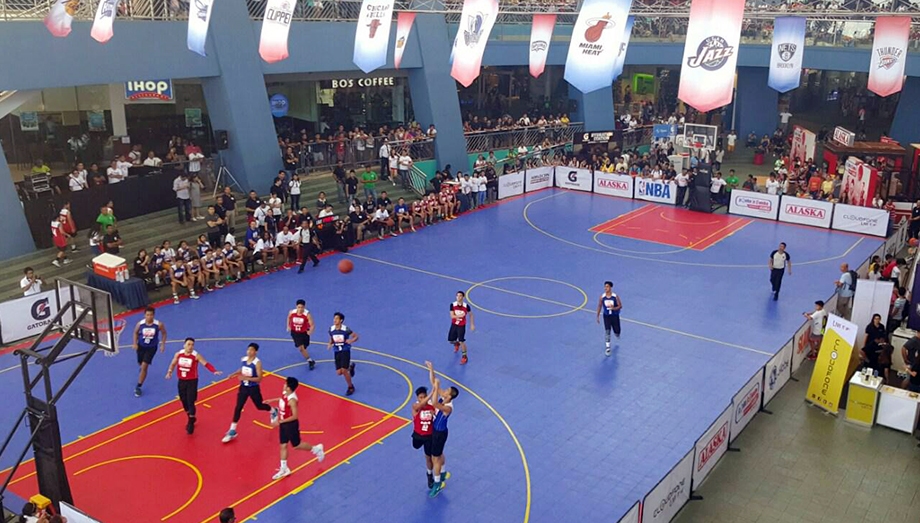 Nine years since the Jr. NBA and Jr. WNBA began in the Philippines, the country's longest-running youth sports development program has done more than teach basketball fundamentals and instill values that can help athletes succeed on and off the court – it has shaped a legacy of guiding the young stars of tomorrow.
From Ateneo Blue Eagles star Kiefer Ravena, to the University of California Los Angeles-commit phenom Kobe Paras, to the first Jr. NBA alumni who got drafted to the PBA Aljon Mariano, the program has a long list of young prodigies who are on their way to make headlines in the future. In fact, last April 24, the Jr. NBA and Jr. WNBA named 10 boys and 5 girls out of more than 20,000 young athletes from all over the country to this year's All-Star team – players who possess more than skill, but also the qualities of a young star.
The 10 boys selected are, Harold Alarcon, Isaiah Miguel Blanco, Tracy Carl Dadang, Ric Ozner Gatuz, Julian Alfonso Jugo, Andrei Philip Lechoncito, Jearic Nuñez, Miguel Roy Luis Tan, Fritz Felix Valencia, and the 6-foot-9 13-year old Kai Zachary Sotto, who is named this year's Jr. NBA MVP.
The 5 Jr. WNBA All-Stars are, Rozie Amatong, Aloha Marie Betanio, Ma. Cecilia Quilenderino, Darlene Regasajo, and the 2016 Jr. WNBA MVP Florence Jill Talas.
"This is something that I never experienced when I was their age," shared Alaska Aces veteran Dondon Hontiveros in an exclusive interview with PlayPH on his thoughts about the Jr. NBA and Jr. WNBA. "This program, in partnership with Alaska, has helped many young athletes to learn and develop their skills and also their character."
With the help of the program's and Alaska's team of professional coaches, the young athletes went through 4 months of training, developing their fundamentals, discovering the S.T.A.R. (Sportsmanship, Teamwork, positive Attitude, and Respect) values and qualities a player must have to improve, and most of all, forging strong bonds with their fellow campers who are journeying with them towards making their dreams come true. Just like in the previous years, this year's All-Star team will be headed for the ultimate NBA Experience, the program's culminating event. Later in October of this year, the young All-Stars will travel to China to meet and train with their Southeast Asian counterparts and watch the NBA Global Games.
"It's just a great opportunity for the kids to grow not only as players but also as a person," said Hontiveros. "To experience playing with other young athletes from different parts of the country, go through the tough schedules and tasks, it's really a very rewarding experience."
From the Regional Selection Camps that started in January, to the National Training Camps in April, all the way to the NBA Experience later this year, the program has provided a holistic NBA experience for the campers – an experience that brought them together as one family regardless of their backgrounds. From Kiefer Ravena, Kobe Paras, Aljon Mariano, to all the recently named Jr. NBA and Jr. WNBA All-Stars, they are all part of the program's continuing legacy of shaping young athletes to become the stars of tomorrow.