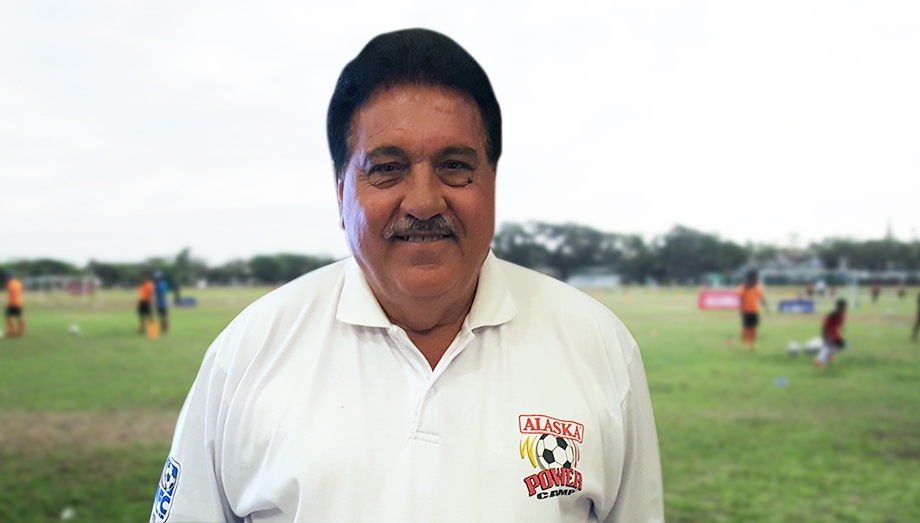 In 1995, Alaska Milk Corporation teamed with former Real Madrid player Tomas Lozano to create the inaugural Alaska Football Cup, an event that has grown to become the longest-running, most successful event of its kind in the country. As the Cup grew from 25 teams and 250 players to 410 teams and 6,150 players coming as far as Davao, Lozano has worked tirelessly to improve the state of Filipino football, heading up the training program of the Alaska Football Power Camps. Indeed, as founder and president of the Makati Football Club and creator of the Makati Football School (the Philippines' first such institution), Lozano's devotion to the grassroots development of his favorite sport is well-known.
"My struggle is I can't hold Power Camps in a thousand locations," Lozano laughs in an interview with PlayPH. Arriving in the Philippines 40 years ago as a Spanish import, Lozano says that he quickly fell love with the country (and his wife!), and decided to make it his mission to introduce the Beautiful Game to kids aged 3 to 16. The joy, he says, comes from the fact that, with children, you can spend time building a love of the game in a less competitive atmosphere.
With regard to the Alaska Football Cup, Lozano says he takes inspiration from the Gothia Cup, the world's largest international youth football tournament, held annually in Sweden. And in addition to his own football schools, Lozano champions his football cause as head of the Alaska Football Power Camp.
"The idea (behind the Power Camps) is to give kids the knowledge that sports is fun; we give them the base, which is to be physically strong, fit, and happy. We also give them the skills and the moral values of life and character. When you give kids all of these things together, then you are giving them the base to grow properly."
"As a coach, I grew myself, just as the children grew – you learn always. I was never satisfied not to learn and grow. Nowadays, I no longer coach myself, but I have a group of about 16 coaches, and my job is to give them the program and instructions through my learnings and seminars on what they should do."
Lozano smiles when asked why he teaches: "For me, my life is football, and sports is forever. It can be anything, football, basketball, volleyball, swimming, anything you like! But Professional, amateur or fan, you just need to find your level."