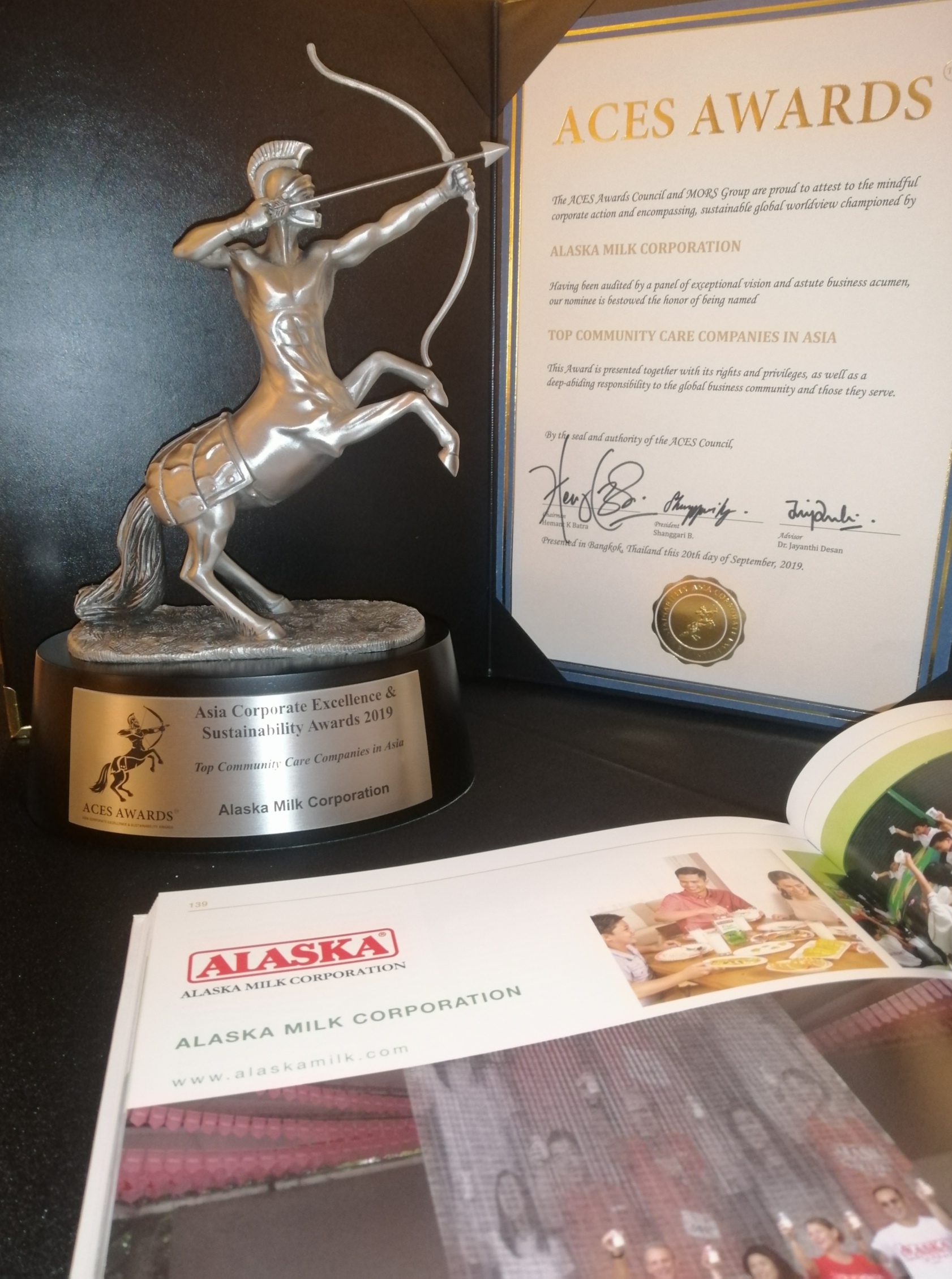 On September 20, 2019, Alaska Milk Corporation (AMC) received the Top Community Care Companies in Asia Award in the Asia Corporate Excellence & Sustainability (ACES) Awards 2019 at the Athenee Hotel in Bangkok, Thailand. The award was received by Corporate Affairs Director Atty. Maria Angela Esquivel, Public Affairs and Legal Manager Atty. Noel del Prado and Public Affairs and Legal Associate Manager Ray Vincent Ramos.

Ms. Shanggari Balakrishnan, Chief Executive Officer of MORS Group, said that "Alaska Milk Corporation's CSR initiatives have been designed to draw resources from its primary businesses to ensure that the strategy of the company and its sustainability efforts are aligned. This is a major milestone for any company planning to undertake long-term CSR projects."
Atty. Angela Esquivel, who received the award for AMC, said that "The ACES Awards re-defines Corporate 'Winning and Excellence' as ends to strive for, but as a means to a higher end. In the context of the Philippines, where 95 children die of malnutrition every single day, we strive for excellence to cut down that number every day, by providing free milk to malnourished and severely malnourished schoolchildren in public schools.

AMC received this international award on the eve of its 47th Founding Anniversary. Last [July 2019, AMC received the HR Asia Award for "Best Companies to Work for in Asia".
Considering these achievements, Atty. Esquivel said that, "These awards remind us that we need to win, and we need to be excellent because Filipino children's lives depend on it. Each child, each life, ignites us to win and moves us to excellence."

The ACES Awards recognizes the contributions of Asian businesses towards their communities and the world. MORS Group continuously strives to champion the development of a flourishing, resilient, sustainable and united Asia. Inspired by the mythical icon of ACES Awards, Chiron the wise and knowledgeable centaur, the awards trophy made of pewter is exclusively handcrafted by skilled craftsmen of Royal Selangor. Mounted on solid wood base, the trophy is truly a unique masterpiece and perfect testament to our success.