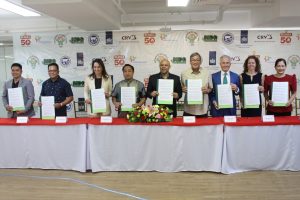 As part of its integral business and purpose to contribute to food security, Alaska Milk Corporation (AMC) puts up the Philippine-Netherlands Dairy Excellence Center (PNDEC) by signing a Memorandum of Understanding (MOU) with its partners.
"To commemorate our golden jubilee this year and to help the administration of President Ferdinand R. Marcos, Jr. achieve food security for the Philippines, we are establishing the first-ever Philippine-Netherlands Dairy Excellence Center (PNDEC)," said Mr. Tarang Gupta, Managing Director of AMC. "This does not only fortify Alaska Milk's mission to bring forth nutrition to every plate and glass of Filipino homes but also strengthen the company's lifelong commitment to bettering the lives of Filipinos," Gupta added.

PNDEC is founded through the partnerships with the Department of Agriculture (DA), the National Dairy Authority (NDA), and the University of the Philippines Los Baños – Dairy Training and Research Institute (UPDTRI). The Embassy of the Kingdom of Netherlands in Manila and CRV serve as service partners for this endeavor. CRV is a Dutch cooperative providing genetic products for healthy, efficient cows and other services.
"Ladies and gentlemen, we are at war. We are still at war against malnutrition. That is why milk is an essential diet especially in our growing children," said Dr. Farrel Benjelix Magtoto, OIC Administrator of NDA.

"It is our honor to join a giant dairy company, Alaska Milk Corporation, in the fight against malnutrition. This is partnership will help us turn our smallholders into a productive, profitable, and proficient dairy enterprise. To have PNDEC simply means empowerment for our dairy farmers and assurance of our local milk production," Dr. Magtoto ended.
On 09 March 2012, Alaska Milk became a part and subsidiary of Royal FrieslandCampina after establishing itself as the leading milk company in the Philippines. Royal FrieslandCampina, or RFC, is a Dutch multinational dairy cooperative based in Amersfoort, Netherlands. It is considered one of the world's largest dairy cooperatives, with over 18,000 member dairy farmers in 34 countries.
"We, FrieslandCampina, are already 150 years old. We are made by farmers, and owned by farmers. And they our the 8th generation of the farmers who created this company. And we can't wait to impart this generational knowledge and efficient practices to the local farmers of this country. Because this is not just a excellence center but strong purpose and this is to be nourishing by nature," said Royal FrieslandCampina President Food and Beverage Group, Roel van Neerbos.

RFC established the Dairy Development Program or DDP to better the lives of farmers. Through the DDP, RFC provides training courses and forms partnerships to share knowledge. By doing so, the company supports farmers in improving the quality of their milk, making their farms more sustainable, and gaining access to the market. In the process, RFC simultaneously contributes to the sustainable development goals of the United Nations.
Ambassador of the Embassy of the Kingdom of the Netherlands in Manila, Her Excellency Marielle Geraedts, also graced the event. "This dairy excellence center is a very important step especially in empowering smallholder farmers because they can really make a difference in the elevation of milk production in the Philippines," said HE Geraedts.

To uplift the status and lives of Filipino dairy farmers and to emulate the best practice of other operating companies of RFC around the world, on 5 May 2021, AMC established the first-corporate led Dairy Training and Development Program in the Philippines. The main objective of this program is to support our local dairy farmers through training and workshops in attaining a high level of milk quality and safety, increasing farm productivity, and gaining access to the market. Together with the NDA and the UP-DTRI, AMC signed a Memorandum of Agreement (MOA) to develop the Philippine dairy industry jointly and allocated almost PHP 4,000,000.00 for this program last year. Since the program started, AMC has been able to train more than 100 dairy farmers already. Alaska Milk aims to train 300 more local dairy farmers and cooperative officers this year.
Together with the co-founders and development partners, a five-year (5) roadmap will be developed to achieve the goals of attaining a high level of milk quality and safety, increasing farm productivity, gaining access to the market, and making the lives of farmers better.
"With our knowledge in breeding beef cattle with our previous enterprise, we thought that it would be easy to shift to dairy farming. But we were wrong. But with PNDEC, through trainings and relevant workshops, we can achieve a higher milk yield and fast track the reproduction of our good performing cows. This is a never-ending learning and the quest for dairy knowledge continues," said Joey Tapay, proprietor of Sta. Maria Dairy Farm and a beneficiary of DDP.

AMC acknowledges that the government cannot solve the problems of society alone. Alaska Milk believes that as capable stakeholders, we must pitch in. The company also believes that spreading our knowledge and investing in the development of local dairy farmers is an important part of our responsibility. Under our grass-to-glass motto, through PNDEC, providing training and other platforms to our local farmers for more sustainable dairy farming will make their lives better and also helps achieve food security for our nation.