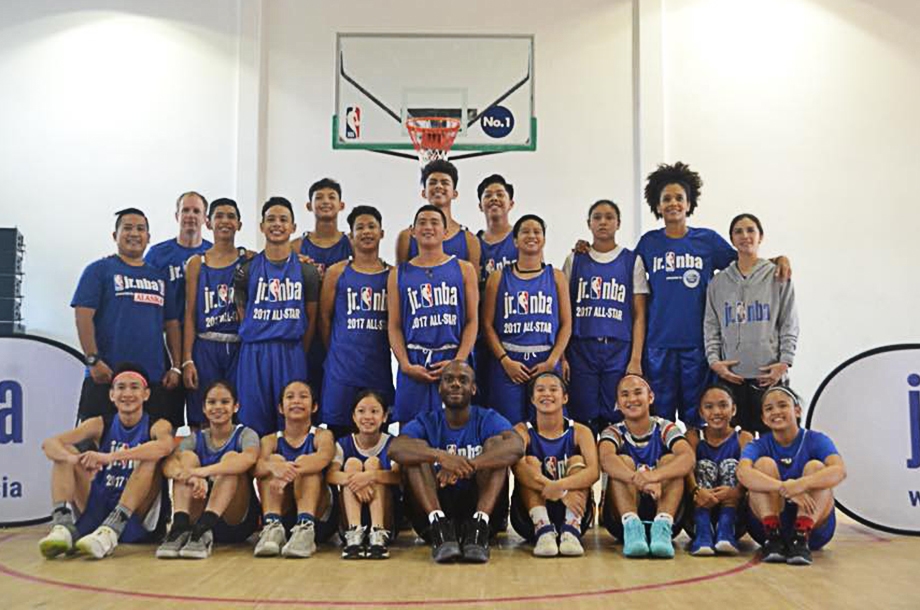 Behind every athlete's success, defeat, and hardship, is a pair of parents who stand just as proud. Every time their kid walks up the podium, receives a medal, or a trophy, there's this instant moment where a parent sees their all their sacrifices pay off.
Last October 6 to 9, the Jr. NBA All-Stars flew to Shanghai, China as a culmination for everything they've worked hard for. There they got to train under world-class coaches and play alongside All-Stars from other countries as well. On top of that, the kids together with their coaches witnessed the Golden State Warriors play against the Minnesota Timberwolves.
One standout among the group was Kenji Duremdes, a talented young baller from La Salle Greenhills. What seemed to catch the attention of many was that everywhere Kenji went, his mom, Therese Duremdes went too.
For the full-time mom, her son Kenji is on his way to reach greater heights, and she wants to be there throughout his entire basketball journey.
It truly is amazing, the amount of dedication she puts into her son's hoop career. In fact, she's an all-around mother to the aspiring athlete; "They wouldn't be able to achieve where they are right now if not for all of our sacrifices and pushing Kenji to his limits. And of course, playing the role of driver too. I take care of his food as his nutritionist and everything, tutor pa. Sa lahat talaga– all in one."
Therese even chose to leave a career she was passionate about behind, "The biggest challenge is having to sideline my own career just to be able to focus on them [Kenji]. Especially because they require a lot of my time," she says.
But the trade-off from leaving her career is all worth it as she watches Kenji from the sidelines, "I am extremely proud- beyond proud actually. He learned basketball through Alaska Power Camp when he was six years old. And from then on, the passion in him, he was the one who really developed it."
As Therese would have it, she thanks God for blessing her with an amazing family. "I am beyond words right now. I am just thankful every day, thankful to God for giving me children like them. I don't want to miss anything so I could trade whatever I had before just to see them through," Mrs. Duremdes says.
After all Kenji has achieved on and off the court, his mother's main reminder for him remains simple, "I always tell him that greatness is just around the corner for him. I always tell him, that he should give his best every time he plays and give the glory to God. To always, think that he's playing for the almighty God."