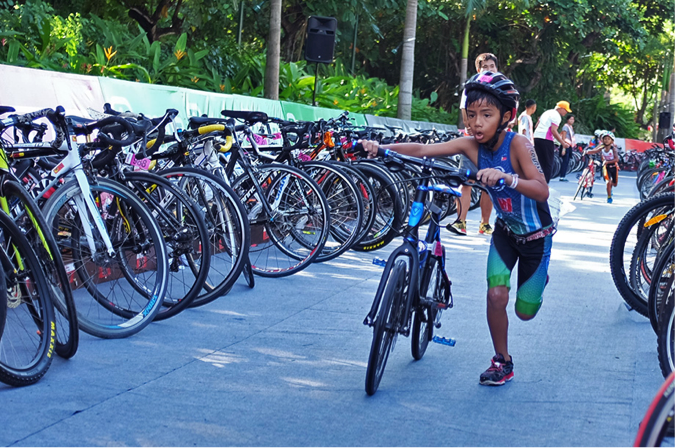 On August 5th, the 2017 Alaska Ironkids took place at the Shangri-La's Mactan Resort & Spa in Mactan, Cebu. And while hundreds of kids suited up for last weekend's event, one youngster caught the attention of many.
Before getting into the long-distance sport, Rafael Jopson feared swimming in the open water and would often be seen playing along the shore. After last weekend, the young triathlete is a recognized winner.
When it was his turn to suit up, Rafael finished the course in impressive fashion. With a speedy-time of 17:38, Rafael sits on top of the Boys' 6-8 race category, leading the entire pack by a 30-second margin.
Rafael's winning attitude may be attributed to his father, Noy Jopson, the country's very first Cobra Ironman. Like his son, Noy's love and passion for the sport began at an early age. At 19, he was crowned as an Asian Junior Champ and was a member of the Philippine Team, winning three prestigious gold medals, and a number of unbeaten records.
In a report with the Philippine Star seven years ago, the famous triathlete says that finishing the entire IRONMAN course is one of the highest achievements anyone can reach. The race is a pure test of an individual's physical and mental strength to cross the finish line. For him, "Even if I never win another race again in my life, I'd still be happy with what I've accomplished in the sport because I can call myself a Cobra Ironman."
Today, his son Rafael is on his way to achieve the same things he did and beyond. With the right tools and courageous attitude, winning this year's Ironkids is only the beginning of a successful race career.
And through the inspiration he gets from his father, family, and helpful coaches, Rafael has overcome his fear to cross the finish line and call himself a champion, an IRONKID. That's the true meaning of the Alaska IRONKIDS race.
For more race results and information on upcoming events, visit: http://ironkidsphil.com/site/