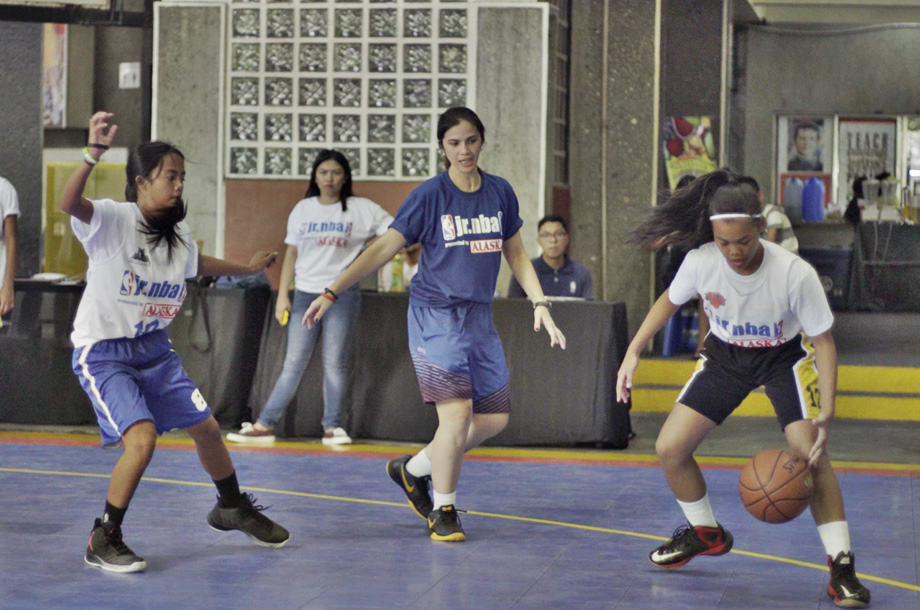 Since the beginning of PlayPH, we've witnessed and met extraordinary athletes who have tasted the great gifts of the game in one way or another. One such athlete is 2017 Jr. WNBA Coach of the Year Cat Biongcog, a native of Cagayan De Oro who also happens to be a mother of three.
Coach Biongcog began her coaching career three years ago, leading teams in local barangay leagues. According to her, commanding from the sidelines wasn't enough sometimes. When games got tough, coach Biongcog would often suit up and step into the action as well to help her team.
Earlier this year, her passion for basketball led her to join the Jr. NBA program for the first time. Her journey started at the regional training camps back in Cagayan De Oro, where she taught young ballers the basics of the game.
From there, Coach Biongcog's skills with the campers were quickly recognized as she was chosen to come to Manila for the National Training Camp. There she was tasked to coach some of the country's elite up and coming basketball players.
Out of the hundreds of coaches from around the country, it was Coach Biongcog who was crowned as Coach of the Year. "Iba 'yung feeling. Actually, 'yung first intention ko dito was not to win the Coach of the Year," she says.
After that, it was time for the All-Stars and COY's to make their way to Shanghai, China, where they would meet, train, and scrimmage against their counterparts from five Southeast Asian countries. The highlight of the trip was a pre-season NBA Global Game between the Golden State Warriors and Minnesota Timberwolves.
For the Cagayan De Oro native, flying to China was something special, and something she felt very excited about, as she told PlayPH, "I'm looking forward na to be with them, to learn more, and of course 'yung Global Games, at tsaka, to explore Shanghai itself."
To this day, after all her years spent close to basketball, Coach Biongcog couldn't help but be thankful for everything it's given her, "Basketball is my passion, it's where I can be myself. All in all, I'm very thankful for basketball. Ball is life! Until now, even with 3 kids – ball is life."
Travelling the world was something Biongcog never thought basketball would allow her to do. "Nung bata ka hindi mo aakalain na aabot ka nang malayo eh. Of course, I was playing for passion, not for going somewhere. Pero ngayon, parang na-eenjoy mo eh, parang mas ma-momotivate ka."
Despite all the people she's inspired, helped, and even motivated thus far, Biongcog says she's only getting started and that her wish is to create a nationwide avenue for women's basketball. "As a coach, I'm only getting started…There's more to learn, more to explore. I will be continuing to coach in my city in Cagayan de Oro. For women, ang advocacy namin ngayon is we want to have a consistent league for women's basketball. I want to be a big part of that, for sure."